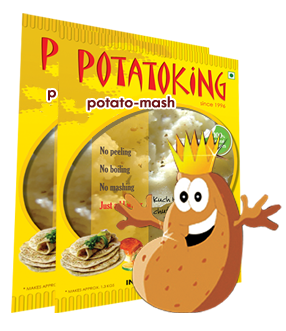 Three simple attributes: pure, hygienic and fresh;
has made us a name to be reckoned with in India and abroad. Since its inception in 1996, we at
PotatoKing
, have clearly demonstrated and maintained our ability to constantly provide value in terms of products and services.
The largest manufacturers of Potato flakes, Potato Flour & Potato Powder in India, PotatoKing's, facilities are spread over a fully automated, state-of-the-art modern plant specially manufactured and fabricated to suit Indian conditions, imported from the USA. Our daily production capacity of 15 tones finished products are produced by drum dryers. PotatoKing can provide a variety of mesh sizes to suit your specific requirements. Our exports to international markets stand testimony to customer satisfaction.
Our major source of procurement of controlled sugar and high solid potatoes is by contract farming. We mainly use special processing variety of seeds. Potatoes chosen are free of sprouts, green skin, or spots. To prevent potatoes from greening, spoiling, they are stored in our cold storage facilities that are well ventilated and under regulated temperatures. This prevents development of sugar in potatoes and these potatoes are commonly called Low Sugar Potatoes.
All the processes, from procurement & storage of raw potatoes to finished product packaging and storing, are done under strict supervision and with utmost care. Special attention is kept on climatic and humidity control factors so that the finished products are uniform in nature throughout. SQC (sample quantity control) is an integral part of our production process at all steps. No human touch once the raw potatoes are on the feeder!
PotatoKing flakes are dehydrated mashed potatoes made by applying cooked, mashed potatoes to the surface of a single-drum drier fitted with applicator rolls, drying the deposited layer of potato solids rapidly to the desired moisture. The dried sheet of product is broken up then formed to a specific bulk and density as per customer requirements. Normal packaging is of 20 Kilograms is in HDPE outer and inner food grade Poly-Lined bags. However, smaller quantity packaging is possible on specific orders.
We proudly certify that PotatoKing flakes are free from chemicals and preservatives.


Thus far, we have done all possible backward and forward integration possible in the agro-industrial area of potatoes. However, looking at the future, and keeping international trends and technologies in mind we envisage development in the processing of frozen potato sections in the form of slices, dices and any other sections that may be possible. We are in the process of technology transfer and procurement of plant and machinery to suit our climatic conditions and production demands.'The King' in potato is what we strive for.